Superior Solar is Central Florida's Premier Residential Solar Company
Since 1984, Superior Solar has been the preferred solar contractor for over 20,000 residential applications in the greater central Florida area. Our solar systems are the highest quality in terms of performance, reliability and satisfaction. Our systems use the best in class components and are installed and serviced by the best trained technicians in the field.
Superior Solar Systems Residential
Services:
Professional solar consultation and solar design
Every system is unique and requires a thorough analysis of the job site, the customer's objectives and return on investment. Our consultants are in constant contact with our clients from the initial consultation, to the design and installation of the system. Our consultants are dedicated to the client long after the installation has been completed.
Solar installation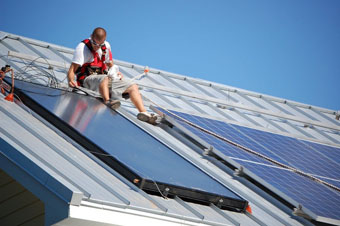 Our technicians are all highly skilled and undergo continuing education in the newest techniques and equipment. To maintain Superior Solar's commitment to quality each employee is thoroughly trained in every aspect of our solar applications.
Solar system maintenance and service
Our service department is extremely experienced; we are proud of our ability to handle any issue associated with all solar systems. Customer service after the sale is extremely important-we understand that a satisfied customer is a happy customer. Our Service Department is available 24 hours a day and 7 days a week for emergencies.
To read about our 4 step process click here.
For a full list of Superior Solar Systems advantages click here.
We offer the following types of solar products:
If you wisht to create your own power and dramatically reduce your monthly utility bill, then you may be a candidate for a Superior Solar photovoltaic (PV) system. These are the most advanced systems available and can create the most positive environmental impact. With utility rebates and a 30% Federal Tax Credit (through 2016), a PV system can offer a very smart investment.
A traditional electric water heater is one of the top energy consumer applicances in a home, and consumes about 25%-30% of a monthly utility bill. A Superior Solar hot water system can provide up to 85% of a household's hot water demand. In fact, several local utilities incentivize their customers to convert to solar.
Add months of warm pool fun each and every year with a Heliocol solar pool heater. Our clients typically enjoy their pool more than 9 months a year just by using the sun's free energy. Superior Solar has sold the Heliocol brand exclusively since 1984.
Solar attic fans
The installation of a solar attic fan(s) is an effective way to reduce energy costs. During the summer months, attic temperatures can exceed 150 degrees. The proper installation of a solar attic fan(s) can dramatically reduce the air temperature in the hottest part ofyour home, cooling down your living space below and reducing the air conditioning system's daily workload.